Shop Blog
How to Take Care of Your Skin This Winter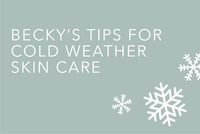 As we head into the colder months, I want to talk about how to protect the hydration in your skin. Look, late fall and winter are just kind of tough on skin - you need to baby it and be gentle. Think about it: the rest of your body is bundled up in layers to protect from the cold and dry air, but your face is exposed to the elements. Let's give it the love it deserves!
Watch our winter skincare essentials video here!
Keep your face cozy and glowing with these winter hydration tips:
1. Cleanse Gently.  Resist the urge to "deep clean" your face with a detoxing cleanser, or multitasking with your body bar soap. The air and cold combine to make your skin extra sensitive to water loss, and foaming cleansers (with their strong surfactants) strip vital oils and hydrators from the surface of your skin. Now is the time to find a nourishing and gentle cleanser that will replenish your skin instead of strip. Try oil or cream cleansers instead of foaming cleansers. Here are a few of my favorites:
Pendulum Potion by May Lindstrom
Rich and luscious, Pendulum Potion is a meditative experience and cleanser in one! It is an oil cleanser with tamanu and camellia seed oils to restore elasticity and cacao for antioxidant power. Truly an immersive treat for all skin types.
Complete Moisture Cleanse by Josh Rosebrook
Creamy and gentle, this pH balancing cleanser offers clarity and nourishment with an ultra mild lather. Made with aloe, honey and a soothing herbal infusion, Complete Moisture Cleanse is fantastic for all skin types, but especially effective for those who are sensitive and breakout-prone.
Pure EO Free Cleanser by Marie Veronique
Packed with probiotics and essential oil-free, this oil-to-milk cleanser is ideal for those with super sensitive and reactive skin. Probiotics help normalize skin's surface, while Omega 6-rich oils dissolve congestion without drying.
Click here to view our favorite winter cleansers
Also, washing your face in hot shower only exacerbates the effect of harsh cleansers. If the water feels warming and soothing to your weather-worn body, then it's too hot for your face! Either cleanse over the sink with tepid water or temporarily turn down the heat in your shower while you rinse.
2. Use extra hydrators!  If there has ever been an appropriate time to layer your skincare, it would be now. Boost your moisturizers with nourishing and hydrating serums by layering them on before creams and oils. Here are some of my favorite serums for the season: 
Vitamins CEF by Marie Veronique
Formulated with ingredients that support collagen production, Marie Veronique's CEF serum is one of our best sellers! It visibly hydrates and plumps skin, and unlike many C serums, it is actually housed in an antioxidant rich green tea infusion - meaning even the carrier for the vitamins in this formula will support skin health.
Weightless and hydrating, the Sea Serum manages to replenish skin without adding any stickiness. Crafted with their signature seaweed and algae complex, it is like a multivitamin for the skin.
Plant Milk is a hydration treatment for skin in need of deep rehydration and soothing. We recommend this product if you suffer from dry, flaky and red skin and are seeking repair (ie not a weightless boost). It contains arnica to calm, plus a suite of moisturizing botanicals. This is a rich serum, and some will find it is enough to stand alone as a moisturizer, too!
Click here to view our favorite hydration boosters
3. Use a face cream, then oils!  Face oils are ultra popular, but if you're very dry (or even just feeling a tad dehydrated, a hydrating cream that is in a base of water, aloe or a hydrosol will replenish your skin. We often hear customers confused about why their skin is still dry after daily oil application, and that's why. Oils protect the hydration in the skin, but don't physically deliver it. Here are my top cream recommendations for dry skin:
Vital Balm Cream by Josh Rosebrook
If you're feeling extra dry, flaky and sensitive, then Josh's Vital Balm Cream is your remedy. With botanical hyaluronic acid, it deeply hydrates and forms a protective layer on the skin to prevent water loss.
Advanced Protection Cream by Osea
Crafted with Osea's signature seaweed and algae blend, plus amino acids, this hydrating cream is as dense as they come. Vitamin and mineral rich, it helps to brighten skin tone and reduce the appearance of fine lines.
Intensive Repair Balm by Tammy Fender
Ignore the word balm; this is a super hydrating cream that is not heavy handed. It's almost milky in texture, and in a base of delicate floral waters that soothe, hydrate and replenish. I love this this product for anyone who needs intensive hydration but hates the feeling of a rich cream.
Click to view our favorite hydrating creams
4. Spot treat extra dry spots!  Cheeks, nose and lips are more prone to flaky dryness, so use a balm with butters and waxes to create a more protective layer in those sensitive spots. Oils are usually sufficient to layer on top of your hydrating products, but if you are experiencing persistent rough, dry and irritated skin, try a balm instead. They seal in hydration and form a protective barrier between your skin and the cold air. Some of my favorites are:
This aromatherapeutic cult classic is the ultimate in repairative moisture. Rich in butters and calming blue tansy, it melts from a balm to a velvety oil to seal in your skin's precious hydration. Deep Moisture!
Yasuni Balm by Earthwise Beauty
Ideal for more sensitive skin types (especially those that do better with fewer ingredients), Yasuni balm is essential oil free and packed with incredibly protective and enzymatic plant butters and waxes. What is so special about this formula is that it melts instantly and avoids any kind of "salve-like" texture. It also contains fruit butters that make the skin look polished and clear. It's truly lovely for all skin types!
Lip and Cheek Balm by Erbaviva
Let's not forget about the children! Multi-tasking Lip and Cheek Balm is perfect for keeping those little cheeks and lips (heck, hands even) safe from windy weather. It's in a stick, making quick application a breeze. It's travel size and ideal for the whole family!
Click to view our favorite face oils and balms