Shop Blog
Guest Post: Be Well Breasts with Blind Tiger Bodywork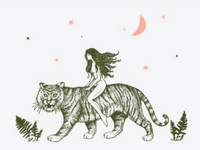 I am thrilled to share a blog post with Migs Domasiute, founder of Blind Tiger Bodywork and maker of La Copine, an absolutely beautiful breast massage oil I have long coveted. She is here today to share a little more about breast massage. If starting a breast massage routine sounds like something you'd like, you can find La Copine in our Day 2 mama shop! -Becky
On Breast Massage
When we hear about breast massage, we don't always think of something easy and pleasant, done daily with an abundance of love and care from your own hands. Often, it is associated with a quick self-exam every once in a while, without becoming a regular practice. While self-exam and professional exams are very important, simple daily self-massage can create an energy and mood, and significantly influence how you feel in your body.
Why breast self-massage?
As a bodywork practitioner, I know that breast massage is not easy to find at most spas, unless you get in touch with Ayurvedic practitioner who specializes in this practice. Thankfully, at home self massage is as good of an investment to maintain breast health. There are physical and emotional benefits associated with self massage.
Since breasts primarily are made up of fatty tissues, they can become stagnant if not touched. Stagnation in your fat tissue can contribute to benign lumps or bumps forming, so adding some movement by gently manipulating the area and bringing light heat from minor friction may help break build up. Additionally, the chest and neck have a significant grouping of lymph nodes. By massaging this area, we activate lymphatic flow, which supports our immune system by expelling toxins and other undesirable accumulations. Finally, gently massaging your breasts helps to reduce hormonal breast tenderness, minimize soreness and swelling, preventsing sagging, and alleviates some menopausal symptoms.
In addition to breast health benefits, it has been shown that self-massage could have mental health benefits as well. Adding circulation to this sensitive area helps to increase oxytocin, a hormone which inhibits stress and depression. It also reduces anxiety and tension.
The Approach
The lymphatic system and the skin are the main detoxifying organs. As lymph itself is a slow-moving fluid, it relies on contracting muscles to flow, making self-massage a great tool to stimulate detoxification. 
It does not have to be complicated. You can simply start with dry skin brushing, followed with a warm bath or shower, and finish with self massage using an antioxidant, antiinfammatory oil like La Copine. 
La Copine.
The base of our formula is a calendula and sunflower oil infusion. Calendula flower petals contain high levels of carotenoids, flavonoids and fatty acids that support healthy skin. Sunflower oil is a great team player as a carrier oil because of its light texture and scent. It has slightly cooling and relaxing effect when massaged on the skin. 
Then, we picked the key tonics and nutrient dense ingredients, which have been used for generations to support hormonal cycles, including oils like castor, sesame and evening primrose. We also added jojoba and rice bran oil for a luxuriously smooth and velvety feeling produced by a balanced fatty acid content and vitamin E. 
Essences of Blue Yarrow, Palmarosa and Sage, Vetiver and Frankincense act as inflammation reducers, circulation improvers, cleansers and lymph movers - especially important for the health of breasts. 
The resulting oil is rich in minerals and is gentle enough to use not only on the breasts, neck and décolletage, but also on your face. Depending on your skin type and your daily regimen we recommend it as a night nourishing treatment - just a couple drops on freshly cleansed skin, or simply pressing your palms on your face after massage. The botanicals create a dance of fragrance: earthy, fruity, with touch of woods and hints of incense - an invitation to breathe deeply and participate in this moment.
As an awareness-based product, it works as a reminder to stay connected with the breasts and notice changes early, if they occur. We call it a Protector oil - your shield, your support, your nourishment and feeling-of-ease-accoutrement. 
Ritual
I see ritual as the acknowledgment of infinite connection to life. Ritual is not a trend or commodity (as it may look nowadays), nor is it new; it threads through women healing consciousness through centuries, connecting one era with another, teaching the same thing over again - how to use the intuition, how to nurture, and how to be more compassionate towards the self. Healing through ritual is exactly what it means - embracing tranquility, and paying attention, observing, and preventing rather than curing. 
Within the boundaries of this living body lies the experiences through which we get to taste this life. Ease, contentment and worth can seem very distant, but but it can be attained in only a few minutes. In order to savor these gifts, which are frequently concealed by simply living a fast paced life and never pausing stimulation... in order to become more in tune and in a harmonious relationship with the body... we need to embrace quietude with the fervor that many embrace goals and accomplishments. 
Here is a simple suggestion for this ritual. Find yourself in an undisturbed room (in the bathroom after your shower works quite well), and don't be afraid to imagine yourself as a goddess surrounded by warmth and scents that are pleasant. Use a few drops of oil and gently massage your chest, neck and breasts with circular motions and strokes. Notice the structure and the way they feel. Remember them. Touch your face too, the eyebrows, temples, massage your jaw - open your mouth and exhale, let go. After 5 minutes of self-massage you will be feel renewed and more at ease.
Always keep gentle awareness.
With breast cancer being the most common cancer among women, it is crucial that we do not neglect this part of the body, and take good care of ourselves. Intimacy and time for yourself by no means is selfish; it is a necessary dimension of self-care. 
And while breast cancer awareness month is coming to the end, please never forget about them! Honor your breasts and get to know them. Get intimate with them. Feel good massaging them. Don't exclude them from the whole body. Give restorative treatments daily. The more comfortable you are with your own skin, the more aware you will be of subtle changes in your tissue. And since early detection is the key, we should not be shy touching them every day.
To learn more about breast cancer self-exams, visit
breast

cancer.org
, and don't be afraid to ask questions about breast health to your qualified medical professional.