Shop Blog
Introducing Our New Gua Sha Collection!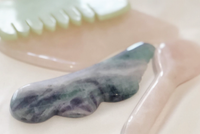 As we spend more time at home, many of us are dedicating ourselves to a face massage routine. We thought now would be the perfect time to share our new Cecily Braden face massage tool collection. Several of our estheticians have participated in multiple days-long training on these tools through the Cecily Braden training program and are passionate about these tools for their myriad uses and benefits - including our esthetician Regina! She's written an extensive summary of our new collection with a background on gua sha, plus uses and explanations on all our new pieces. Have questions? Send us an email at hello@takecareshopdc.com! Enjoy! 
-Becky 
What is Gua Sha?
Gua Sha is an ancient healing technique used to create space for natural movement. It breaks up myofascial tension and releases stagnation that creates blockages for healthy flow, which, in turn, helps with glow, acne, inflammation, puffiness, aging, and hyperpigmentation. (The only contraindication for Gua Sha is all over inflamed/cystic acne. If you have some trouble areas you can definitely still benefit from this, just be mindful of those spots and work outwards and away to help with inflammation.) To take away any confusion or intimidation I go a little more in-depth with each tool below. I hope you find this helpful and informative <3


CJB ORIGINAL ROSE QUARTZ GUA SHA STONE
This is Cecily's signature tool! Great for Rosacea, Acne, and Sensitive skin, but can be used for all skin types. The rose quartz stone that is associated with the heart chakra and has a loving/calming effect to both the skin and soul.
Let's take a look at the tool. The side that looks like three little mountain tops is great to use for releasing tension in the jawline. Make sure to start in the middle of the chin and back towards the ear while using slow and intentional strokes. The curved "wave" side of the tool is the side I prefer to use to smooth fascia by using a long sweeping glide motion. (Great to use on the neck, cheekbones, and forehead.) The ridged side is best used by stroking in multiple directions to help smooth out fine lines/deep wrinkles. (Repeat each movement however many times you feel called to— typically 3-4x depending on the area/focus it can be much more.)

In summary, this tool is an all-in-one and associated with sculpting, lifting/firming, and tension release. Shop here!
 
"LILY" RAINBOW FLUORITE POCKET GUA SHA

An incredibly beautiful and petite tool, the rainbow fluorite pocket gua sha is ideal for travel. The rainbow fluorite stone is uplifting, mentally soothing, and balancing by opening and stimulating the heart, throat, and third eye chakra. There is a lot of lovely variation in each crystal! 
You can use the ridged side to reduce puffiness while also firming and lifting. Use gentle and light pressure when using for lymphatic drainage. When using and sculpting techniques you can apply slightly more pressure but should never be firm when using on the face or neck. More pressure does not mean better results!
Same as the rose quartz stone, the "mountain" side is best for any contouring type movements on the cheek/cheekbone area, and the "wave" side for smoothing and going down the sides of the neck to clear and help guide the lymph flow by draining downwards.

In summary, this tool is associated with lifting/firming and reducing puffiness and can be used by all skin types. Shop here!


ROSE QUARTZ AND MOOKAITE SPOONS
Using the "spoon" end, help release any tension in the forehead by using circular motions. Start in the middle and work your way out towards your temple. Now repeat in the other direction. Always remember to work outwards and downwards for lymph drainage, and upwards and outwards for lifting and sculpting.

You can use the small end to relieve tension under the brow, alongside the nose and into the upper cheek/lower under eye. To reduce under eye puffiness make sure to use a gentle lymphatic pull + light bounce right under the orbital bone/contour of the eye (not in the soft tissue).

Both the rose quartz and the mookaite can be used hot or cold - stick them in the freezer for a cooling/calming effect or warm them wrapped in a washcloth in between a heating pad for tension releasing/melting effect. 

Mookite is especially unique - no two spoons look the same! It is also associated with clarity and imagination, while rose quartz is associated with self love and compassion. 

In summary, these spoons are associated with tension release and reducing underage puffiness. Shop the rose quartz spoon here and the mookaite spoon here!
Don't be intimidated by the look of this one! It's a beautiful tool that can be used for the face and body in many different ways. Use the comb side to release tension in the eye area to open, lift brows, and reduce fine lines/wrinkles. Go upwards starting from the brows all the way into the scalp past the hairline. According to Cecily, it "stimulates the skin's natural ability to heal & provides essential nutrients and production of elastin & collagen to rebuild a healthy skin structure."

Turn it to the side that has the two round edges and apply pressure to the sides the nose and in between the brows. Gently glide upwards while stimulating pressure points to provide stress relief.
Love a good scalp massage? Comb through your hair while applying light/medium pressure starting from the hairline and back. Flip your hair over and do the same for the back of your head using short, gentle strokes. 

A beautiful multi-tasking tool! It is associated with tension relief, contouring, and lymph drainage. Shop the comb here!
Next Steps:
As you can see, all gua sha tools will help assist with stimulating flow, sculpting, lifting, reducing puffiness, and giving you a radiant complexion. There are so many benefits to Gua Sha, and like with anything else it's most important to have intention behind it; you will see results with regular practice.  

Keep in mind that more and harder does not mean better. Take it slow, and be mindful of pressure - if you push too hard it actually impedes flow! This should be a tension and stress relieving part of your selfceare routine that you look forward to. Light a candle, put on some lo-fi tunes, and make this a time for just you every day. 

If you're a visual learner, make sure to follow Cecily Braden @cecilybraden on Instagram for tips and tricks on how to use your new tool! She has lots of great videos in her feed and also in her "highlights" under the names of: 

Gua Sha Tips

Sculpting Spoons
30 Tips
Rainbow Fluorite
Jade Comb
Cellulite Redux