Shop Blog
How You Can Help COVID-19 Impacted Businesses + Communities Right Now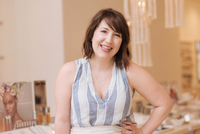 Hello, sweet Take Care community! It has been an interesting week. A hard week, a weird week, a generous week... plug in just about any adjective and it could probably describe the last few days. I wanted to take time to thank you for your support by sharing us with your friends, making online purchases, and generally being good people who check in both with us and the rest of your community to make sure everyone is okay. 

This is a very tough time for everyone. But, I am very much in the mindset that the only way out is through. And that's where I'll be - working hard to help you and me and Take Care all make it through this situation and hopefully learn from it to be more prepared the next time something like this happens. 

Now, how exactly DO we make it out of this? The answer is, of course, not simple. There are things you can do to support your community now, and there are things that the small business community needs to put in place for a more resilient future, which will take time. So let's focus on the now: 

Support Small Businesses
Here's the deal: very rarely do small businesses make enough revenue to plan for disasters. You may be surprised at the number of businesses who say they may have to close permanently the moment they had to cease operations. This is why: it is extremely expensive to run a brick and mortar retail store or restaurant. The profit margins are tiny and the overhead is extremely high. And, almost all of them operate with loans, which still need to be paid while they are closed. Deferment is great in the short term but putting off debt payments and rent payments is a stopgap. It all has to be paid at some point, and in that time, no revenue was generated. In a month or two, a temporarily closed business can rack up many tens of thousands of dollars in accounts due depending on the size of the business.

Can you see how this quickly gets out of hand? This is why you see so many small businesses asking for your support (and working hard for it!) It's why you see Go Fund Me campaigns set up for staff or even whole businesses... it's because they really do need help to get through this. If you want to see particular small businesses weather this storm, you need to support them whether it is financially or through other means. Here are some ideas on how, but also reach out to them and ask their specific needs:

1. Purchase a gift card to their shop or shop their online store (with the understanding that there may be interruptions in service in the case of quarantines, etc)

2. Pre-pay for a service, like a haircut (with the understanding it could be a significant period of time before you receive the hair cut!)

3. Contribute to their Go Fund Me, even if it's $10. That is a meal! 

4. Share about why you love them on social media or directly to your friends. Do one or two shoutouts a day about a specific business and name why you love them, suggest a product to buy, etc. Honing in on specifics makes it easier for your friends to understand why you love the business! You could even ask if the business has any discount codes, promotions or new virtual/no contact offerings they want you to share! 

5. Reach out and ask if there are specific policies or initiatives that would be beneficial to them and who to call so you can advocate for them. For example, if a business shares that they need direct financial assistance *instead of* more accessible loans (which is what many small businesses are saying right now), ask how you can learn more or contribute to the effort. 
If you specifically want to support Take Care, please purchase e-gift cards, shop online, or sign up for a Long Distance Consult here. Thank you for your kindness! 


Support Your Community
Everything I wrote about above businesses is true for people. I know you know this but sometimes it helps to hear it: there are lots of people in your community who don't have money to feed themselves or their children, and they were working their jobs to the last possible moment and were unable to stock up on essentials. Or there are elderly people who can't leave their homes because they cannot risk getting sick. So, we need to support them. Here are some ways you can do that: 

1. Send a tip to a local service industry professional using Virtual Tip Jar. Learn more about it here! Sadly, a majority of service professionals lost their job this week and they do not know when or if they will get it back. This includes restaurant staff, beauty industry staff (estheticians, massage therapists), event venue staff, most retail/shop workers and more. Basically, all the people that run the cute places you love to frequent are facing a pretty tough time and could use a little help. Want to help one of our estheticians specifically? Click here to send them a "tip," which we will transfer to them.  

2. Donate to your local food bank. Here in DC, the Capital Area Food Bank has seen a severe reduction in deliveries of food from grocery stores because everyone is stocking up. They have to buy food, and for the thousands of people they're feeding, I can't imagine how quickly this adds up. Consider donating or volunteering.

3. Help the animals! In DC, Lucky Dog Rescue is looking for both foster homes and volunteers to help process applications virtually. In these times, a lot of people are having to give up their pets. I am sure other animal shelters all over the country are experiencing the same need, so check in with your favorite one to see how you can help. 

4. Volunteer or support an organization specifically helping families and children, like DC's Martha's Table. Access to education, hygiene supplies, and even housing are all within this organization's mission. 

5. Offer something you are good at for free or reduced rates. Teach yoga? Host a complimentary class on social media. Know how to paint? Make an instructional video. Tutor a subject? Offer virtual tutoring while kids are out of their normal learning environments. 

If you have more ideas you want to share, please do so by commenting below! We are all in this together and from what I see from the Take Care community, we are going to emerge with more compassion for one another and a greater sense of love for our neighbors. That makes me really proud! 

Wishing you health <3

Sincerely, 
Becky Waddell