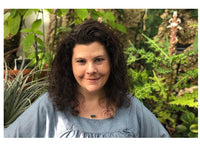 We are so excited to share the Blüh Alchemy collection with the Take Care community! It was such a treat getting to chat with the founder, Becky Blüh to learn more about her background, passion and loads of knowledge - please give our interview a read and explore the whole collection HERE! -xo, Becky
How did you find yourself formulating skincare? Your formulas are a rather unique blend of minimalist and advanced - how did you strike that balance?
My journey into the world of skin care formulation began in 2011 after my daughter was diagnosed with a rare, life threatening vascular disease. Her treatment involved rounds of chemotherapy and a cocktail of aggressive drugs that left her skin dry and sensitive to the touch. Growing up in the hills of Western Massachusetts, my father was an avid naturalist, seasonally planting vibrant gardens overflowing with vegetables and an assortment of medicinal and culinary herbs. He instilled in me a deep appreciation for nature. To help support my daughter's tender skin, my instinct was to return to my roots and begin to craft simple soothing balms from nourishing oils infused with the healing herbs we grew in our garden. I knew that in her fragile state I had to keep the formulas simple. Witnessing the transformative power of plants was both a relief and incredibly inspiring. This ignited a passion and an unstoppable drive in me to advance my skills as a cosmetic formulator and my understanding of the skin's physiology.
In regards to striking a balance of minimal and advanced, my approach is always to formulate a product for the optimal health of your skin.I use nutrient dense ingredients and actives that have been clinically proven for their targeted results and their ability to enhance and work synergistically with each other, without the use of fillers.
What are your favorite ingredients to work with and why?
It's very hard to choose a favorite ingredient but I will share with you some of the powerhouse  bioactives that are at the core of our products. Kakadu Plum Cellular Extract found in our Multi C serum, contains the highest known source of stable, bioavailable vitamin C, it activates collagen production and brightens skin tone. Our Nocturnal Repair Active Emulsion featuresChebula,an Ayurvedic medicinal herb. When used topically it has been clinically proven to be a powerful glycation inhibitor, free radical neutralizer and oxidase enzyme inhibitor while preserving collagen 1 and 2.
Snowflower Cellular Extract is favorite for its powerful UV absorbing properties and ability to reduce the appearance of hyperpigmentation, which you can find in ourAntioxioidant Face Oil.
Mountain Pepper Leaf Cellular extract, is a potent antioxidant that has set new benchmarks on the global ORAC rating. It's loaded with powerfulphyto-actives including anthocyanin, chlorogenic acid and flavone glycosides which work to neutralize free radicals and protect the skin from premature aging. 
There are so many skincare brands out there. What sets Bluh Alchemy apart from the rest? 
As a brand owner who formulates every product, I am intimately involved in each step of the process. Our formulascontain some of the highest concentrations of organic, bioactive ingredients on the market and arehandcrafted in small batches to maintain optimal quality and fresh vital energy. We utilize a curated selection of globally sourced, powerhouse ingredients chosen for their clinically proven results. My quest to find the most nutrient dense ingredients brimming with vitalbioactives led me across the globe to Australia and the world's first Cellular Extracted botanicals. Unachieved before, this cutting-edge extraction process works to rapidly harness a plant's completephyto- active profile, pure, stable and unadulterated as it exists in nature. The vital constituents of a plant are not damaged, unlike with conventional methods that often overheat or leave plants stewing, rendering them less effective. This allows the full power of the plantsbioactives to be delivered directly to your skin. Cellular Extraction is a game changer, accessing potent antioxidants from once thought impervious sources that far exceed industry benchmarks and ORAC values for vitamin E, Vitamin C, Green tea, Goji and much more, as evidenced and backed by independent clinical studies carried out by Southern Cross University.Blüh Alchemy is proud to be the first skin care brand to bring these exceptional extracts to the U.S.Cellular Extraction redefines what can be achieved with natural ingredients and evolves natural product formulation- makingBlüh Alchemy's vision to deliver the most Advanced Bioactive Solutions an exciting reality. 
What would you recommend as a routine for summer?
Our whole line contains protective antioxidants and potent ingredients to help restore skin hydration while preventing oxidative stress and the signs of pre-mature aging. While important year round, this is especially true in the summer, to protect against UV damage and skin dehydration. My go-to summer routine starts off with our uplifting, lemongrass scented Cleansing Oil. Follow this with our Toning Elixir, which Ilove tostore in the refrigerator for a skin quenching refreshment. The next step I would recommend is always our Multi C Serum and if you need a little extra moisture you can lock in hydration with our Antioxidant Face Oil and Eye Oil Serum. 
Are your products mix and match friendly?Ie, can we make our own custom blends between products at home? What products from the collection pair particularly well together?
Absolutely, our products  are mix and match friendly. We encourage our customers to feel comfortable creating innovative ways to utilize each product. I've had customers share how they enjoy combining a couple pumps of both the Multi C Serum and the Anti-oxidant Face Oil in their palm to create a mini emulsion by day and doing the same with the Botanic-Retinol at night. Another great way to create a light emulsion, especially for summer is by blending a few spritzes of the Toning Elixir and a drop or two of the Antioxidant Face oil in your palm, then pressing it into your face. For an at home mini spa treatment you can lightly foam up the Exfoliating Cleanser with several pumps of the Toning Elixir to create a beautiful detoxifying mask. Recently a customer shared that they love using our Eye Oil Serum as an all over face serum, which is great!

The exfoliating cleanser and the toner are both very unique! Can you tell me more about these two? 
I think of our Toning Elixir as a super multitasker. While it tones and deeply hydrates the skin, it's as active as any of our other serums. It includes Finger Lime Caviar for its high source of vitamin C and MSM for its ability to enhance the absorption of vital actives which helps improve the overall performance of the formula. Hibiscus, known as the "Botox plant" and hyaluronic acid boost hydration and plump the skin. Snowflower is rich in catechins and gallic acid and acts as a photo-protective agent, with powerful UV absorbing properties. It can be used to set makeup and enhances the delivery of any product you follow it with. 
I created our Exfoliating Cleanser to act like a green smoothie, giving your skin a boost of nourishment while providing a deep cleanse. Our Exfoliating Cleanser combines the following key bioactives; Kakadu Plum Cellular Extract for its ability to reduce hyperpigmentation, French Green Clay to promote detoxification by absorbing toxins, excess oils and bacteria and Moringa Powder which is rich in potent antioxidants and contains over 90 powerful nutrients including chlorophyll, carotenoids and amino acids which help to fortify the skin and protect from oxidative stress. These potent bioactives work together to activate cellular renewal, detoxification and an even out skin tone. The result is a noticeably brighter, smoother, supple complexion. 
Your vitamin C serum was before its time - how did you conceptualize this stunning serum?
Thank you so much! I'm so glad you asked me this question. I started working on this formula back in 2014. I wanted to create a serum with the highest level of vitamin C possible. I wanted to choose multiple sources of vitamin C in order to harness their unique profiles thereby creating the ultimate efficacy for a C serum. I dove deep into the world of botanically sourced vitamin C which felt like I was searching for the Holy Grail! This search led me to a study published by Southern Cross University in Australia on Cellular Extracted Kakudu Plum. It has been clinically proven to be stable for a year, which is unprecedented for an aqueous form of vitamin C, notorious for its loss of stability once exposed to air and light. 
Bakuchiol and ceramides are all the rage! Tell us more about why you love these ingredients.  
Indeed they are and for good reason! We loveCeramides. They are a powerhouse when it comes to reducing the signs of premature aging. They are key to maintaining moisture and providing a lipid layer which acts as a protective barrier from pollution, bacteria and trans epidermal water loss. They help lock in hydration to the skin. Not only do they help repair, renew and firm aging skin, they are shown to reduce dryness, fine lines and wrinkles.
Bakuchiol is a retinol alternative derived from the Ayurvedic plant Psoralea corylifolia, specifically the seed, delivering retinol-like results without the negative side effects. We love Bakuchiol for its myriad benefits. It helps reduce the appearance of fine lines and wrinkles, evens skin tone, boosts collagen, improves skin elasticity, facilitates the skin's regenerative process and is gentle enough for all skin types.  
Regarding the sustainability of this plant, there have been concerns that it is endangered. SomePsoralea plants are however Psoralea corylifolia is NOT registered on the International Union for Conservation of Nature's Red list and in fact there are very strict guidelines in place regarding its harvesting. We source our Bakuchiol from a leading manufacturer in the industry for it's ethical and sustainably sourced Bakuchiol. Unlike other sources that cold press seeds resulting in products with varying percentages from 1-12 % which can include contaminants, our source utilizes a proprietary monomolecular extraction process that is standardized rendering greater than 99% pure Bakuchiol.