Shop Blog
Bathtime Inspo with Palermo Founder, Jess Morelli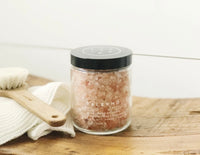 With frigid weather in full gear, I find myself craving the nourishing warmth of a good bath. Thankfully, I am surrounded by some of the best in the business and was able to check in with Palermo founder, Jessica Morelli, about how she elevates this classic self care ritual. 
In addition to these insider tips, we are thrilled to offer an
INCREDIBLE gift with purchase!
When you spend $100 on any Palermo products, you will receive a complimentary full size Soothing Milk Soak for free!
Make sure to add this GWP to your cart - we have limited supplies so snag yours now!
Without further adieu, here are Jess's bath time tips!  


How do you take your baths to the next level? 
I love to add a handful of our

Botanical Facial Steam

to my bathwater in addition to both of our bath soaks for the ultimate luxurious bath. The beautiful petals open up and release their therapeutic benefits making for a total mind-body sensory experience. *One tip would be to make sure you have a mesh drain cover to catch the petals so they don't clog your drain!


Which product is your favorite for a warming bath on a cold night?
Our
Soothing Milk Bath
is an all-around cold-weather Rock Star. The moisturizing Coconut Milk battles dryness and comforting Oatmeal soothes itchy skin that can come with frigid temps. It's also formulated with Dead Sea Salt and botanical extracts that target irradiation while being gentle enough for even the most sensitive skin.
Can you combine your soaks or should they be used separately? 
What's your hot take on morning and afternoon baths?
I think they're an underutilized way to reduce stress and anxiety. Starting, or breaking up your day with a serene bath truly is a therapeutic tool that can help recenter and recalibrate our moods helping to make the rest of our day more enjoyable. Think of it as a meditation, and while it's not always accessible to fit a morning or midday bath to our busy schedules, think of them as just another tool in your self-care arsenal. 


If we had to pick just one body oil to use post-bath, how do you recommend we choose (given that we want both!)
It's SOOOO hard to choose between the two so I'll give some details that will help you choose the best oil depending on the mood you're going for:
From a formulation perspective, our Hydrating Body Oil is a rich oil blend great for winter days and dry skin, while our Repairing Body Oil is a light textured oil designed to target skin repair after long days in the sun or scaring. That said, both oils are formulated to absorb quickly and deeply into the skin.
From an aromatherapeutic perspective, our Hydrating Body Oilis a grounding and calming blend which is usually what I want after a nice warm bath. This oil is my favorite way to wind down for the day. Our Repairing Body Oil is an uplifting aroma that I like to use after showering or bathing in the mornings to energize me for the day ahead. 


If you can't decide where to start, make sure to check out her new bath mini kits: Repair and Relax Kit, and Soothe and Hydrate Kit!