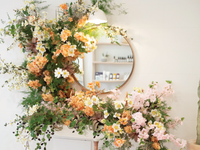 Happy almost officially spring! If the cleaning bug has bit you (or even if it hasn't) I thought I would share my general guidance on how to refresh your personal care products for a new season. 

My hope for you is that you can really curate your routines with products that make you feel good, happy and taken care of. With that in mind, let's keep this simple with three steps.

Step 1: Sort your products into three piles -- get rid of, keep for special occasions, and use daily/regularly. 
Get rid of it if:

1. You have not used it in a year 
2. It's water based and it's been sitting around half used for more than 6 months. 
3. You simply don't like it
4. It has ingredients you want to avoid
5. It's some version of clutter you don't need or use even though it was a *really good* gift with purchase/sample/etc
6. It's making a mess... I'm talking about broken shadows, eye liner without lids, etc. If you love them, fine - set them aside and clean them up!

Keep it in a separate "special situations" area: 

1. You don't use it every day but you love it for special events
2. You're going to wear it next season (depending on what this is, storage matters. If it's a face cream, for example, pop that in a skincare fridge!)
3. It's an occasional treatment, like a mask
4. It's just really special and you want it but don't need it regularly

Keep it in your daily use area:

1. You use it daily or regularly
2. That's it  
3. Give these pieces and the special situations items a good clean. Wash your brushes in a gentle soap and lay flat to dry. Sharpen your pencils. Wipe down your foundation and blush compacts. I personally love cleaning the spaces between products in a palette where powder or cream product builds up! Your hair care bottles need a nozzle/pump refresh, too.


Step 2: Assess what's missing

After cleaning out your bag, identify any gaps in your collection for a supportive spring routine. Common things would be:

1. Missing a good SPF
2. Updated foundation color if your complexion changes 
3. Lighter weight moisturizer 
4. Decongesting/clarifying or soothing treatment for mask related breakouts or irritation (prepare yourself for the impending heat, humidity, and sweat under your masks)
5. Seasonal color platte for cheeks, lips and eyes 
6. Hair care for more humidity 
7. Clarifying body products

Step 3: Fill in the gaps and enjoy your routine!

Whether shopping at Take Care or elsewhere, now is the time to seek guidance on any skin, beauty or personal care products and fill in the gaps for your routine. If you need assistance with any of the above, please pop by the shop or schedule a skincare or makeup consult with us! We will be happy to show you options and guide you to the best selections for your skin. 

Book consults here! 

If we can help you in any way, please don't hesitate to reach out... and enjoy your refreshed routine!