Shop Blog
Double Cleansing for Summer with Earthwise Beauty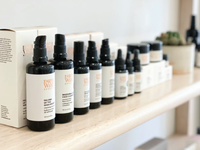 The heat and humidity are on, and we are hearing that a lot of folks are experiencing congested, oily, and broken out or irritated skin. Thankfully, Earthwise Beauty recently released a stunning new oil cleanser (Paloma of the High Desert) that perfectly complements existing shop favorite Marshmallow Cleanser. The two make a wonderful double cleansing pair, so we wanted to share a bit more about how and why you should double cleanse for clear + happy skin this summer.

You've probably heard about double cleansing and wondered if it was worth the hype or right for your skin. For most skin types, we think so! Double cleansing is the perfect way to ensure that you've removed buildup from your skin (sweat, pollution, makeup, and sunscreen) without stripping your skin. Double cleansing is simple! It involves using two types of cleansers: oil based first, and foaming/gel/or cream cleansers second. Let's go into more detail! 

The first step in double cleansing utilizes an oil based cleanser to remove makeup, sunscreen and daily dirt. Especially during the summer, folks use a "strong" cleanser that is super foamy and gives skin that "squeaky clean" feeling to get the day's buildup off. But this often means the cleanser is too harsh and a bit destabilizing and drying for the skin. Oil, on the other hand, does an amazing job at removing these products and buildup in a way that protects and nourishes skin.

We love Paloma of the High Desert Cleansing Oil as a first step in the double cleansing routine because it is a lightweight oil featuring nutritious Kalahari melon oil, antioxidant rich prickly pear oil and sebum-normalizing jojoba oil. It has soothing, soft aromas of geranium, rose, and pomegranate that don't overwhelm but definitely enhance the cleansing experience. To use, thoroughly shake the bottle and gently massage 4-5 pumps of oil onto dry skin with dry hands. The oil will melt away all traces of makeup and other debris. Follow with a damp facial cloth to massage the skin and remove the oil and makeup. 

The next step in your double cleanse is to follow up with a water-based cleanser to remove any remaining traces and treat the skin (this step should be catered to your specific skin needs). We love Earthwise Beauty's Marshmallow Face Cleanser  because it is an ultra-gentle herb infused foaming face wash that leaves skin feeling clean, soft and calm. It has something for everyone: marshmallow root softens, calendula heals, chamomile calms inflammation, and pumpkin seed oil helps address acne. A pea-size amount of this cleanser is all you need! Add it to wet hands, lather up and massage into skin before rinsing thoroughly. 

The benefits of using both oil and water based cleansers is that they work together to clean and balance skin without harsh surfactants that can irritate and strip. The oil breaks down makeup/oil/SPF, and the second cleanse will wash away remaining debris as well as treat skin issues that it's formulated to address. Double cleansing can be beneficial for everyone, and we recommend especially for this time of year.

We are excited to offer an amazing gift with purchase  to get you on your double cleansing routine with any $150 Earthwise Beauty purchase: a 1oz Paloma cleanser and a travel sized Cistus toner, a wonderful toning hydration mist for summer! This is a $62 value - and we have very limited quantities available. Make sure to click here to add the gift to your cart! 

Thank you, and let us know how your double cleansing routine goes!