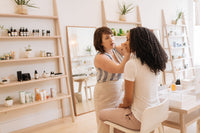 Success! You did it! You've (hopefully) transformed your morning and evening routines and spaces from transactional and necessary to an experience that serves your mind and body throughout the day.

You deserve to enjoy and delight in these routines - not because they help you serve others better, or do your job better, or make you a better person/employee/parent. You deserve to enjoy moments to yourself because you are human. So congrats! I hope you soak it all up.

My guess is that you may be missing some things (actual products + perhaps knowledge/a skill), and today is about filling in the spaces. Your homework for today is identifying the items or tools you need to complete your routine and bring this full circle. The most common things I find missing in routines are: 

Tools
-Correct makeup brushes
-Wipes/cloths
-A mirror that you can see detail in (side note: I received a magnifying mirror with a bright light in a circle all around it. If you are prone to agonizing over small imperfections, please do not torture yourself with something like this!)
-Pencil sharpeners and eyelash curler pad refills

Storage
-Containers for swabs etc
-A plate that keeps small items together
-A toiletry bag
-If you travel a lot, travel sized items (side note: unless you really want them, you do not need to buy travel size kits. It's much less expensive to use small reusable containers and put a little bit of your fave products in!) 

Techniques
-Info on how to use your gua sha or roller
-How do use your highlighter
-How to build coverage with your foundation
-How and when to mask 
-This list could go on forever - the point is, identify those things you have but don't know how to use and get help! Feel free to message me for any recs or ask in our FB group!
 
Products
That's where we come in! And where our promotions come in. Anyone who participated in this series gets a free in person or distance consultation (usually we charge $50 up front) and 10% off your consult purchases. Just send us an email at hello@takecareshopdc.com to request either. Distance consults are great for anyone who can't get to the shop (not local, super busy, etc)! We can do them via email or a phone call, it's up to you! 

Our goal is always to help you find the perfect products for you, but especially now - you're empowered to know exactly what you want out of your routines! We can't wait to help! 

Thank you so much for participating in our 3-day series! I hope it was super helpful. If you have any feedback or ideas for future series, please don't hesitate to reach out! Don't forget to share your images and experiences on IG with #takecarefreshstart!