Shop Blog
Tips for Transitioning Skincare From Winter to Spring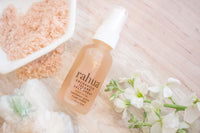 Spring is Here!
It's about that time! Cherry Blossom season is here (unfortunately along with Coronavirus... but let's focus on the blossoms) and it's time to refresh E V E R Y T H I N G!

We all love a good spring clean and so our Lead Esthetician, Heather, is here to share a few points of guidance as you begin swapping products out for warmer, sunnier weather. Have questions about what is right for you? Leave a comment or send us a message! Heather, take it away...
How to Refresh for Spring:
1. Intentionally use your remaining winter moisturizers! Natural skincare products should not be stored and used a year later - both because they're very gently preserved but they also have fresh botanicals that will not be as potent over time. If you don't want to toss the winter staples you invested in, consciously start using them up. This also helps eliminate clutter as you move into spring cleaning mode!
2. Freshen up your makeup brushes. Give them a good deep clean with a gentle cleanser, like an unscented dish soap. Gently squeeze out excess water and lay flat to dry. You should regularly clean makeup brushes because they harbor bacteria, which could contribute to a variety of skin issues, especially breakouts. 
3. Find your favorite SPF product and USE IT! If you "hate the feeling of sunscreen" then make an effort to find one you can tolerate every day. Not all formulas are created equal, so dedicate time to testing out formulas! We recommend zinc based products that block the sun's rays. Note that makeup with SPF, especially powders, will not provide sufficient coverage and must be layered with an additional source of protection, and that sun protection products must be regularly applied for reliable protection.
4. Get outside and move! Being active and getting your body moving when possible helps contribute to a glowing complexion. Don't forget your SPF!
While you're out there, stay hydrated. All those spring weddings, rooftop parties and beach gatherings can emphasize alcohol while also being exposed to sun and heat. Make sure to replenish daily and drink water throughout the day.

We hope these tips were helpful! Let us know what you're doing to refresh your routine!