Shop Blog
3 Ways to Elevate Your At-home Spa Night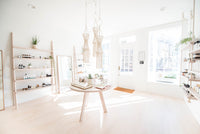 As 2022 approaches, many of us find ourselves staying in on New Year's Eve and New Year's Day. It is a time of reflection and going inward, of getting cozy and reconnecting with oneself. As it so happens, this makes for the perfect occasion for an at-home spa night!

If you find yourself wanting to treat your skin to some at-home pampering, here are a few tips to really dive deep and delight your senses. 

1. Try something new! Never used a foot mask? Always do a salty soak? Never double cleansed? Now is the time to step outside your comfort zone! It's easy to stick to the basics, but why not take this as an opportunity to try a product type or treat a body area that you usually don't think of! It is always a delight to experience pampering in new ways! Here are some of my favorite products for thinking outside the box:
2. Flow = Glow, so why not try face massage or dry brushing? I truly love the visual results and the emotional nourishment that comes from gently massaging one's own face. The practice, especially on one's face, is so soothing and revitalizing. Here are a few products I love for an impactful massage experience:
Want to really dive deep with face massage? Sign up for private virtual gua sha lessons with our resident gua sha queen, Regina. She is one of our amazing estheticians with a passion for face massage and throughout your three virtual lessons she guides you on techniques, goals and routine. You can find out more info here!
3. Take your process to the next level. We are all in such a rush and now is the time to slow down and really get into a nourishing ritual that goes beyond the basics. Here's what I mean: 
Double cleanse. Use a luscious oil cleanser and massage your face delicately for several minutes using swirling upward motions. Cleanse your neck and your chest - massage and replenish your upper body, as the chest and neck often get ignored. Use a gently warmed damp cloth to remove the oil, and then apply a creamy cleanser for yet another opportunity to truly pamper your face. 
Double mask! If you have a congested t-zone but you're dry everywhere else, use specific masks to address your needs in those separate areas. I love using this approach because not all areas of the face will need the same treatment. We even have several overnight mask options that deliver serious hydration - a luscious way to wrap up a spa night! Ps: apply your masks with a mask brush for an elevated and calming experience. 
Don't forget your head and feet! At home facials will always be an instant pick me up, but your scalp, hair and toes deserve love too - and pampering them might be a surprising delight and a new addition to your routine! Might I suggest Rahua for a range of hair and scalp treatments, and Naturally London for some of my favorite foot care! 
Take a warm bath with your favorite soaking salt or milk, and then apply a beautiful body butter all over. Slowly massage the lotion into your skin from head to toe - taking time in areas that need tension release - like your feet... or  maybe ithat's just my own sore soles talking! The point is, take your time and really give your skin and muscles some attention as you rehydrate post-soak! My favorite, favorite, favorite product for this task happens to be the Arabian Oud body butter from Sodashi due to its grounding scent and rich texture. But of course, any body moisturizer you love will do the trick! 
However you spend your New Year's Eve and Day, I hope you find time to care for yourself in whatever way you see fit! If it's a spa day or a hike or a movie day - just enjoy it! You deserve it - we all do <3 

Wishing you a healthy and happy New Year!
XO, 
Becky