Shop Blog
Botanically Dyed Silks with Elizabeth Few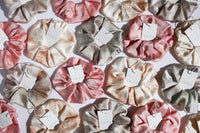 Your botanically dyed silks are just breathtaking! Tell us more about your process - how do you decide which botanicals to work with? 
Thank you! Eco-printing is a fairly simple and straight forward process, much like creating a collage with flowers and leaves. I lay the botanicals on the fabric ( silk!) and create a pattern. Then I roll the fabric up as tightly as possible and I steam it in big pots that are typically used for crawfish boils. The steam causes the flowers to stain the silk and then you're left with a beautiful print. Silk takes natural dye very well and is just the most miraculous fiber in general, with so many wonderful properties. It doesn't take a lot of land to cultivate and uses no chemicals in the process of creating the actual fiber. I named the line after the Chinese empress who discovered silk in 2700 BC! Silk has such an interesting history. The empress went on to design the looms that make the actual fabric and then the Chinese kept silk a secret for 2000 years! I wanted to name the line for Leizu as an homage to femininity and ingenious women throughout time.
Working with the botanicals is part art and part science. You never know what certain flowers will do and if they will impart lasting color, so it's a lot of experimentation. I use a lot of eucalyptus because I love the print and the color never fades. I also work with carnations, plum leaves and even maple. I use a burgundy carnation that actually turns the fabric purple. That was fun a surprise.
Silk pillows have been receiving so much love! What are some of things you love most about sleeping on a silk pillowcase? 
When I first started making silk pillowcases, most people didn't know this beauty secret! I wanted to make a silk pillowcases that was beautiful and didn't scream Vegas hotel room! Aside from it's delicious texture, silk is hypoallergenic, bio-degradeable, anti-microbial and thermoregulating, which means it helps control body temperature. It helps your skin and hair retain moisture, therefor it's anti- aging. It's simply amazing for your skin and hair and people often reach out to me the day after they first sleep on Leizu, rave about it and buy more pillowcases for their family and friends.  Sleeping on silk that is infused with botanicals is just something everyone should experience, because it's heavenly! If you aren't sleeping on a high quality silk pillowcase, you are in for a treat…it will enhance the quality of your sleep and your life in general!

Wearing a silk robe is one of the most sensual and delightful experiences… as we head into fall, do you have any tips for laying these delicate pieces with warmer knits?
It's hard to get dressed in the mornings when you are wearing silk at night, so why not extend that experience throughout the day. I wear silk all the time! I wear the slip dresses under sweaters with boots or with a blazer. I wear the half kimonos with jeans for a night out and I never wear a sweater without a silk camisole layered underneath. I love mixing wools and heavier knits with silk. 
What pieces will you be bringing to the trunk show? 
My brand is all about experiencing a beautiful sleep, so I always have pillowcases and eye masks in tow. I will bring the Leizu botanical mist that doubles as a pillow spray or natural perfume. I will have slip dresses and kimonos as well. I make everything in small batches, so I don't carry a huge inventory but I try to have a range of things that are great for gifts as well as must haves for every natural beauty enthusiast.
Tell us a bit about your background and how you came to be a maker?
I have an art background and I studied fashion design at Parsons and worked on fashion shows and as a fashion stylist for years. That industry is pretty brutal, so eventually I left to focus on my art. I started doing interior design projects and became a certified pilates instructor. This was years ago! I had a small pilates studio in my NYC apartment and I did my art and design work when I wasn't teaching. It was a great balance. I think my love of wellness, art and design are all woven into my brand. I believe in the impact beauty has on our wellbeing and I think we all need a safe haven where we rest and heal. I think creating a home where you can honor yourself, helps us all to show up in the world and connect to people with the kind of love and energy that will reverberate outward and improve the quality of all our lives.