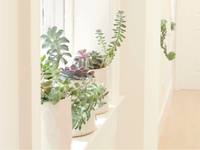 It goes without saying, but Back to School has a whole new meaning this year. While much of our content is directed at adults, I want to take some time and share a few thoughts about skincare for our youth. Just like us, young people are experiencing heightened levels of stress and could benefit from nutritious, grounding skincare routines.  

There are a few considerations when we are talking about young folks and their skin, and these will guide our discussion here:
1. Their skin is sensitive 
2. Marketing to young folks tends to be hyperfocused on breakouts and maintaining clear skin, which tends to inform a lot of decision making even when it isn't called for
3. An enjoyable and special routine can help support both their skin health and their overall mindset

Let's start with #1: their skin is sensitive. Overly active, deep cleansing, harshly fragranced, dyed or scrubbing products do not support their skin's health. Focusing on simple, nutritious ingredients is really the way to go. Less is generally more, which doesn't mean they can't have a fun and varied routine, but it does mean shying away from what's trending on social media and instead having a consistent set of products they can customize based on their needs. 

That brings me to point number two: it's been a while since I was a teenager but I recall that almost all skincare ads and products that were directed at me were about keeping my skin clear. I didn't suffer from acne as a teen -- but I did have anxiety about getting it! I didn't need clarifying cleansers or treatments -- but I did have an arsenal of them at home! 

The truth is, a few breakouts here and there is normal. That isn't to say you can't treat them, but opening a conversation about how skin fluctuates is one way to remind your teen that "perfect skin" is often the exception and not the rule. If your teen is not experiencing acne (let's define acne as multiple active breakouts consistently, not a pimple from time to time), then it's not necessary to use anti-acne specific products, as they can dry out skin and create other skin issues. 

If your teen is experiencing breakouts, I encourage you to help them find a product collection that will both support their sensitive skin and help heal their breakouts. But beyond product recommendations, it's important to validate your teen's feelings - meaning if they're stressed about their skin, don't just say, "It's no big deal!" or "Everyone has breakouts, don't worry about it." Instead, show them that you see them: "I am sorry you're upset about your skin. Even though breakouts are normal, it must still be very frustrating. Let's figure out a solution!"

This subject is super sensitive and you are of course the most knowledgable about how to effectively communicate with your teen. If you feel comfortable, one other thing to consider is simply being open about how and why marketing impacts our own feelings and sharing that it can be hard to ignore the constant messaging around clear skin -- but that you are there to help support them on their path to skin health. My mom was always open with me about these things and it made me feel empowered to have compassion for my skin... even if I did have all the spot treatments on the market in my bathroom! 

Inviting your teen to have a routine is my third consideration. Self care routines aren't just for stressed out parents! Teens also need time to check in with themselves at the beginning and end of the day, and the added benefit is consistent cleansing and moisturizing will support happy skin.

Routines are also ways to encourage loving and kind interaction with their skin instead of picking and overanalyzing. Maybe you can even do it together! A little face massage, a little DIY masking (this is exactly what I envisioned when I created our Simple Little Connection Set), a little conversation... and suddenly they're feeling pampered instead of defeated by breakouts or rushed to bed.

I'm positive I am not telling you anything you do not already know. Looking back to your teenage years, thinking about all the marketing, all the expectation around beauty and clear skin... wasn't it helpful (or, wouldn't it have been helpful) to have someone remind you that you + your skin were not at odds? That you didn't have to fight and control your face in order for it to do what you want? I hope more young people hear that message, and get excited to nourish and pamper their skin, and in doing so, nourish and pamper their whole being. 

Now, for product + routine recommendations:

Oily + Acne Prone

Routine Suggestion #1: Laurel Organics, which is particularly good for sensitive, reactive or inflamed skin. Laurel focuses on beautiful herbal infusions from local, organic farms in the Napa Valley area.

Laurel Support Cleanser, Laurel Hydrating Elixir II, Unburden Serum

Routine Suggestion #2: Tammy Fender, a holistic esthetician focusing on western herbal ingredients for clarifying skin. She has a great starter kit if you're wanting to do a little trial run before committing to full sizes.

Purifying Gel Cleanser, Clarifying Dermagel and Antioxidant Creme

Dry Skin + Normal Skin

Routine Suggestion #1: Pai, a line for sensitive skin with mid-weight day creams. If your teen has more sensitive skin, swap the Avocado Day Cream with the Chamomile Day Cream! 

Camellia Rose Cleanser, Avocado Day Cream and Bio-Regenerate Oil

Routine Suggestion #2: Josh Rosebrook, a best selling a beloved brand known for its ability to rehydrate and soothe. If your teen is often outdoors, swap Vital Balm Cream for Nutrient Day Cream, which is a non-nano zinc oxide SPF 30 day cream. 

Complete Moisture Cleanse, Hydrating Accelerator and Vital Balm Cream


These routines are simply suggestions and collections I would recommend to almost anyone because they are very effective and non-irritating. That said, we have many options and are happy to customize a routine for your tween or teen - simply stop by the shop or send us an email at hello@takecareshopdc.com and we will be happy to help!